Alternative ignition switch for 67 2 liter/67.5 1600
So I tried soliciting for a switch for my 67 2 liter project a while ago. One vendor has an alternative but I could not bring myself to spend the funds. I thought about using the one out of my 67.5 stroker but since Curtis is hooking me up with new custom wiring I decided to go with what I have. Well, last week I went to move the stroker and the darned key snapped off. I tried many things to get that broken key out without much success. I have a locksmith kit and ended up breaking one of the tools off in there as well. So now I had a real problem. Since the screws to take the ignition switch off of the column were mounted from the top down-- I knew I was going to have to do some major dis-assembly to get the old one out. First thing that had to go was the windshield. Next came the steering wheel and turn signal switch. I had to pull the dash forward enough to get the steering column tube out far enough to drill out those darned snap off bolts. So I took all of the dash fasteners off and had to remove several of my Autometer gauges as well as the turn signal indicators. I loosened the four bolts that hold the steering column tube to the firewall. I was then able to pull the tube out far enough to drill the ignition switch assembly snap off bolts. Once the switch was out I was able to get the broken tool out as well as the key. A whole lot easier working on it on my bench. Not that it was going to do me much good at this point. Come to find out two of the three terminals on the back of the switch were lose as well. I tried swedging them and was successful with one but the other one fell off completely. So now what? I started looking for an alternative to the unobtainable ignition switch. I did not realize there were different size switches avialble for the 280Z. Some folks ended up buying one that was 1-1/2" when what you really need is one that is 1-1/4". So, when searching you need to get ignition steering lock w/switch column diameter 1 1/4 inch 80-85 Nissan 720 Pickup Base Model 79-86 Nissan 280zx, Sentra, Stanzaand Pulsar. A 79-83 280ZX switch was said to work. I went to Fleabay and found one new for $46 and free shipping. It is a perfect fit and even locks the steering column. I do not have everything put back together yet but I am pretty happy to have saved some funds. So, if you are not a purist at heart-a 79-86 280ZX 1-1/4" ignition switch does indeed work in a 67.5 1600 and would work for the 67 2 liter as well. My stroker is far from stock so that was of little concern to me. I am sure these switches will disappear sooner than later as 32 years has passed already. Another plus is the electrical switch in the back is available and cheap. Any way-thought I would share.
280ZX Switch on the left- 67/67.5 switch on the right 280ZX switch slightly smaller foorprint-correct angle-fits the steering column tube. The switch comes plain metal. I taped off both ends-where the key goes and the back electrical connections and painted it black.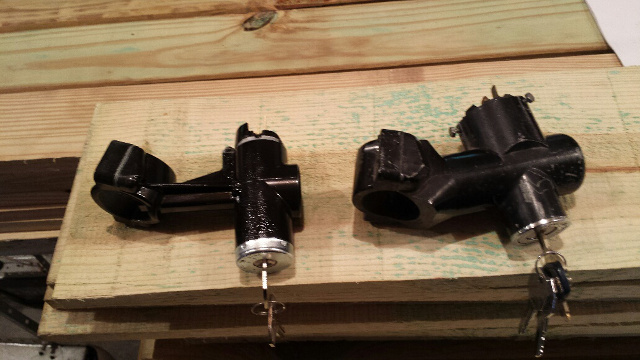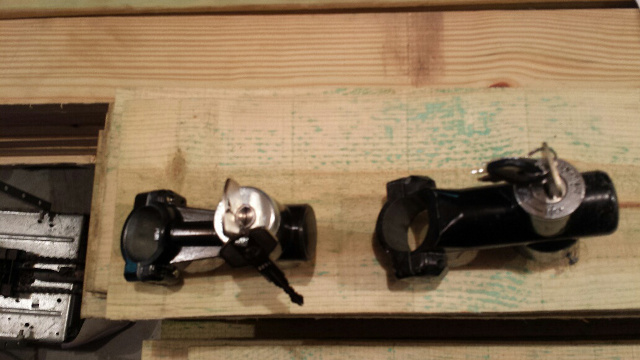 This is the switch you need(1-1/4")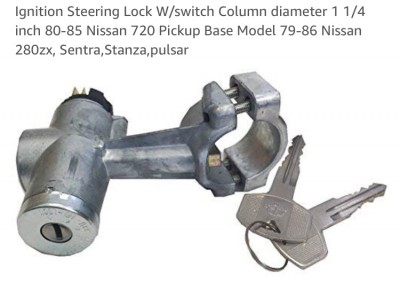 Here is an update on wiring up the new ignition switch compliments of Mackn367. Thanks Nick.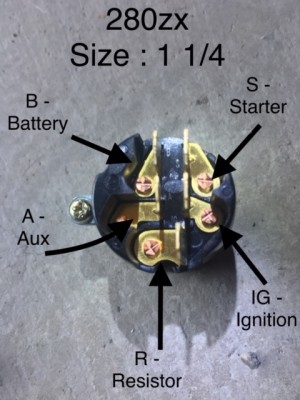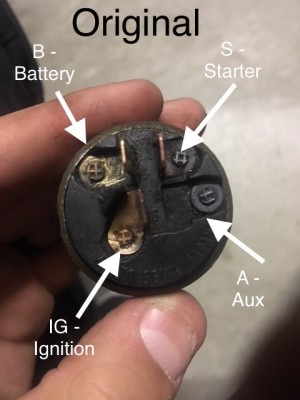 Steve