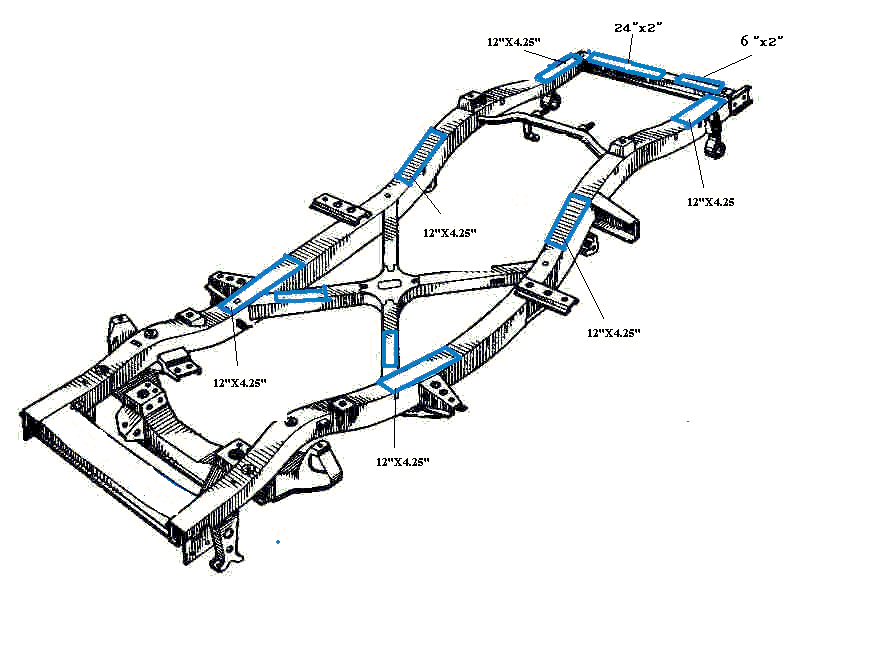 311 Frame Pad Locations
Okay, if you are like me you think you can remember every little detail of how things go back together once you have stripped a car completely. Well, guess what? It is not always clear. Case in point the location of the body pads that go between the frame and the body. I asked the forum for help and got the correct answers. Thanks to Garth, SlowBoy, and Ben we now all have a clue.
Note: Some folks have said the pads do not have to be as long as the diagram. Which ones I have no clue as that info was not passed along. Also, several reported that the rear pads need an exit for wires for the rear bumper license plate light in the center. Best bet is to cut and fit and double check before planting the body securely.
There are 10 total pads, two 12" x 4.25" at the front of the center cross member, two 12" x 4.25" at the rear, two 8" x 3" on the front facing legs of the center cross member, two 12" x 4.25" towards the rear on the side frame rails, and two 2" wide on the very back frame rail. The reason for two pieces on the very back is to allow the gas tank wiring to pass through that area. I am using material 4" wide which should work fine.
Jim (SlowBoy) provided the following information on what he used.
On the 14 cloth reinforced pads for the bolts the following is what I found at the truck store.
Early Chevy pads work for the six large bolts. They will also work for the other eight if you peel off the extra layers, but there is a round one that worked better.
More specifically:
1950-1955-1st Chevy truck radiator support to frame pads are 2" x 2" of the correct material. Just drill the hole to 5/8s for the larger bolts.
If you do not want to peel a couple layers off the above pads for the other eight locations you can use the following:
1955-1966 Chevy truck radiator support pads. These pads are round but are a nice fit and need no drilling for the other eight body bolts.
As for the horse hair replacement pads, I went with Coleman Rest Easy Camp Pad that I now have to cut to size."
I used a 1/4" commercial grade neopreme 50 durometer for the body clip pads and a 3/8" 50 durometer for the body pads. I purchased the material from McMaster Carr. You can visit McMaster here! Look for rubber products.
So as you can see there are several ways to attack this problem. Thanks to all who shared their experience and knowledge. Again, we try to be accurate in our information. If you find something that needs to be changed-please let me know.