Moderators: notoptoy, garth, S Allen
redroadster

Roadsteraholic
Posts: 1121
Joined: Tue Mar 12, 2013 10:58 am
Location: KCMO
---
theunz

Roadster Nut-Site Supporter
Posts: 1440
Joined: Sat May 02, 2009 1:54 pm
Location: Catoosa Ok.
Model: 2000
Year: High Windshield-68-70
I bet that single exhaust breathes just as good, if not better, than the dual side pipes with those sharp bends.
Cool car either way!
Mike M
1969 2000 solex mine since 1972, under resurrection. (Finally resurrected as of spring 2019!) 1969 Porsche 911s -worth more, but not as valuable! (Soon to be resurrected)
---
GeoffM

Roadster Fanatic-Site Supporter
Posts: 1547
Joined: Thu May 22, 2008 2:28 pm
Location: Vancouver BC
Alvin, you should have taken the opportunity to go full-on bosozoku
Geoff
1969 SPL-311
---
FergO2k

Roadster Fanatic-Site Supporter
Posts: 1609
Joined: Thu Apr 29, 2004 12:18 pm
Location: SoCal
Single red stripe on the lip of the current steelies would look cool, like the red stripe tires, kinda.
I agree it now looks better, and if it was driven less because of the exhaust, then good thing it got thrown.
When I looked at the picture of them in the scrap heap, I thought of those Japanese modders, Bosozoku-style.
https://www.motor1.com/news/70055/bosoz ... rom-japan/
Fergus O
69 2L, SUs (driver, not susceptible to polish)
02 Tacoma 4 door
Los Alamitos, CA
---
Alvin

Roadster Enthusiast
Posts: 7403
Joined: Tue Jan 23, 2007 7:01 pm
For wheels, I was going to run whitewalls/stock wheels.
There is option to run these EMPI, Libra or Panasports it's up to Raul
Or the 15" Panasports:
Next, I want to clean-up the interior. Remove diamond plate and install matching red panels. Really want to put the matching red stock 67.5 seats w/headrests(shown above)...just need time. It's probably due for a hydraulic/coolant flush.
Would help with the exhaust fumes
---
datsunrides

Roadster Fanatic-Site Supporter
Posts: 1596
Joined: Sun Apr 25, 2004 7:15 pm
Location: Roseburg, Or
Probably due for the hydraulic flush. I did that when I put the Volvo brakes on there for Raul and I think I rebuilt the rear cylinders too, but that was what, 5 years ago? Don't remember if I did anything with the coolant. On the wheels, my vote would be the Panasports or Libres.
1966 Roadster
Turbo / EFI U20 (T25 w/ SDS EMU.)
---
Gregs672000

Roadster Fanatic-Site Supporter
Posts: 6722
Joined: Fri Aug 07, 2009 11:47 pm
Location: Tacoma, WA
The 15" panasports look great on that car... changes its attitude.
Greg Burrows
'67 2000 #588
Tacoma, WA
---
Shamus980

Site Supporter
Posts: 100
Joined: Mon Apr 02, 2018 7:32 am
Location: Chicago, Il
Definitely unique.... I dig it... I like the gills that are mounted into the fenders. I wonder if that helps the solexs breathe better???
Shamus980

1969 SRL Solex (Summer Driver)
---
2mAn

Roadsteraholic
Posts: 1789
Joined: Mon Jan 09, 2017 5:02 pm
Location: Inglewood, CA
Not likely, the inner fender of the engine bay is opened.
It might help reduce turbulent air in the fenderwells
Simon
Current Cars:
-1986 BMW 325e - pursuit of happiness
-1968 Datsun Roadster 2000 - happiness of pursuit
---
Alvin

Roadster Enthusiast
Posts: 7403
Joined: Tue Jan 23, 2007 7:01 pm
After 5 years of taking care of the Side-Pipe roadster and storing it at my house, yesterday it left.
I drove it to Raul's storage where it will stay, and hopefully get drive often!
She fired up and ran great on the freeway, Solexes blaring.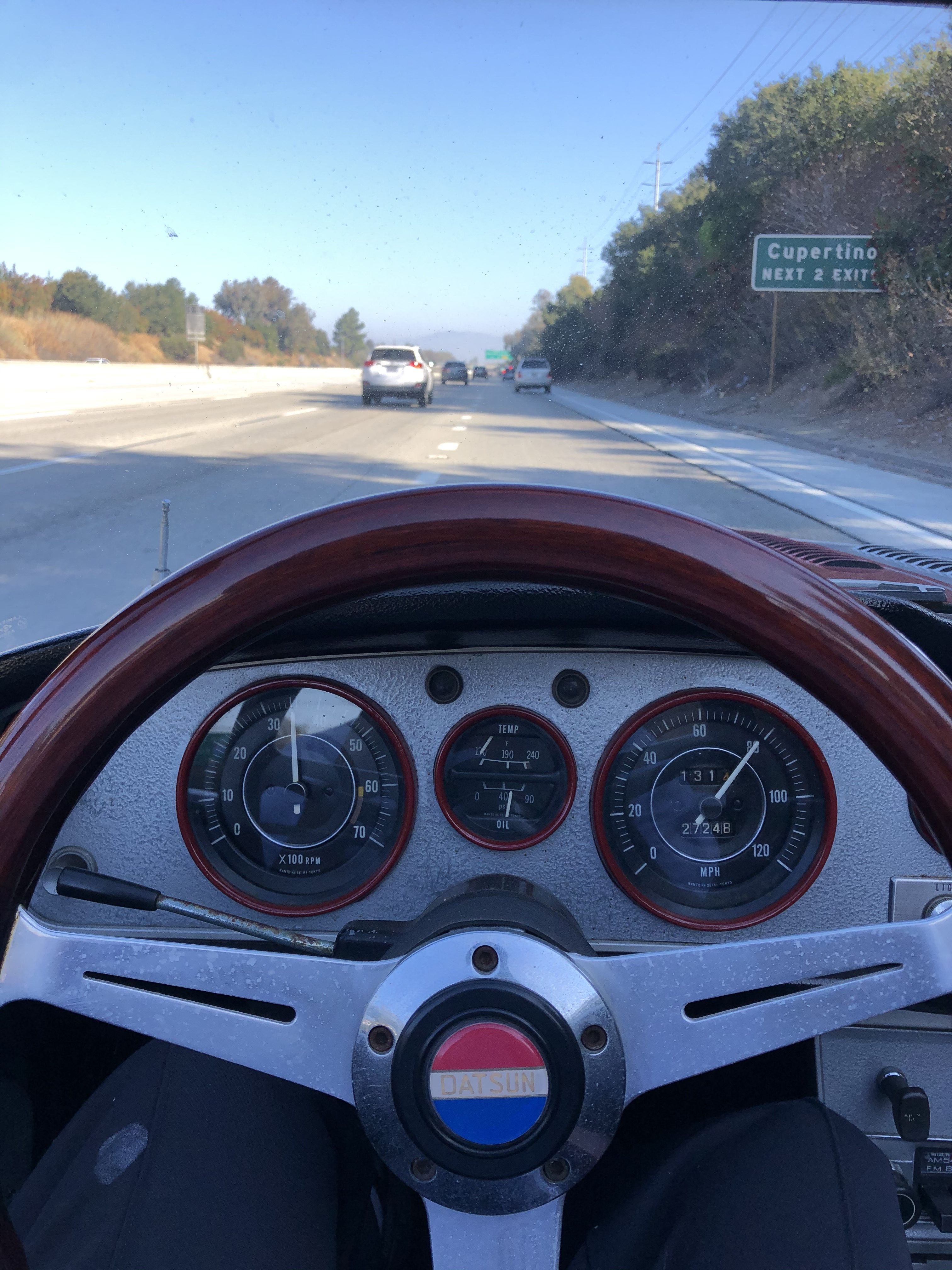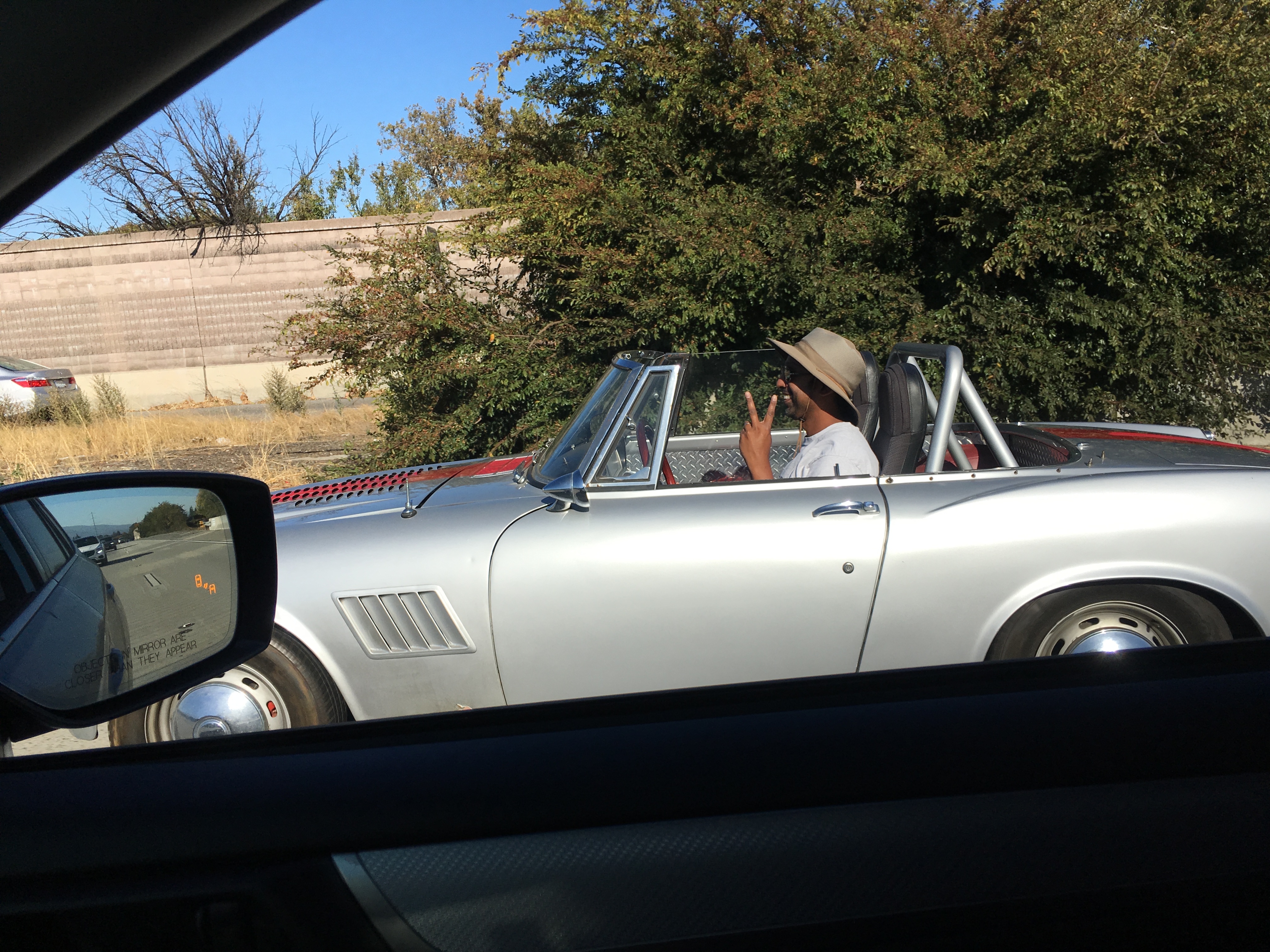 ---