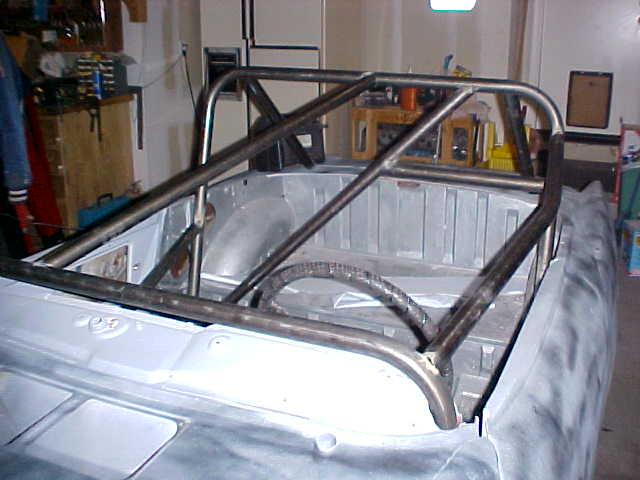 SCCA VINTAGE G PRODUCTION ROADSTER
Building an SCCA VINTAGE G Production Race Roadster From Scratch 1966 SPL311-01372
Well, I must say it has been quite an adventure so far. I picked up this non-running 66 late in 2000 from Modesto. It was pretty sad looking and had not run in who knows how many years. I got it running the day after I drug it home. The gas tank was full of gunk after sitting so long. I put new brakes, radiator, water pump, fuel tank(dipped, cleaned and sealed), fuel pump, brake and clutch master on it. I drove it as a daily driver for several months and she ran like a charm but looked really bad. I picked up another '66 from Ebay with a lot better body several months later and started toying with the idea of selling the first '66. Reality started setting in and I knew I would never get the money I put into it back out of it. I had thought about the idea of building a roadster to race regionally in the SCCA. I have always wanted to race. I played around with go karts when I was a kid growing up in the corn fields of Iowa but that is as far as I got.
So the real story begins. I had this car that was in perfect shape mechanically but looked like a rust bucket. I decided to begin the odysey of fullfilling one of my dreams. Better late than not at all. The first step was to join the local SCCA. I then made several trips to Thunderhill and Sears Point to watch some racing action. That fired me up even more. Next I applied for my novice license. I had to have a complete physical including an EKG but passed no problem. That is what happens when you get a little older and some say wiser-ha! I got a copy of the 2001 General Competiton Rules(GCRs) so I would at least have a little clue as to what I needed to do. The GCRs are fairly easy reading but a bit confusing at times for a novice like myself.
Gutting the car was the easy part. I removed the windshield and frame, door glass, vent frames and windows, door handles, headlights, and the complete interior(What there was of one.)This included the heater box and controls. Next I ordered up some gray POR for the interior, POR degreaser/cleaner and POR metal prep/rust remover. After, cleaning and prepping I sealed the entire interior with POR. Next I painted it over with a gray coat of hammerite. I was told to keep the interior a lighter color to keep the heat down.
I then pulled the engine to clean it up, new gaskets and paint. The engine has an undetermined amount of miles on it but the compression check was good so I decided to run with it this first year. I have a spare just in case that I am going to build up. Since I had already decided on competition orange for the exterior of the car I went with an orange block. She looks pretty good after a thourough cleaning, new gaskets and paint. We will just have to wait and see how she holds up. While the engine was out I cleaned, prepped and painted the engine bay black. I also added one of Gary Boone's Roadster EI distributors. What an easy installation and I am sure the performance gains will be noticeable--plus no more points!!!
I also had the 4 speed tranny rebuilt at a local tranny shop. They did a real good job on the 5 speed in the stroker so I let them do the 4 speed as well. I ordered up a 2 liter clutch assembly from Rod of Rod's Datsuns.
The body work was next. There was tons of bondo in the doors most of which had fallen out. There were rust out spots in the fenders and the rear end had been smashed up pretty badly as well. All the old bondo was removed, patch panels were cut and welded in where needed. I used the POR metal prep to remove the rusty patches so the new bondo would stick. I banged out the really bad spots so it would not take 100 lbs of bondo to fill the dents. I also welded up the top of the doors and where the handles and key lock used to go. At this point, I have it all primed and am ready to do the guide coating to take care of any minor imperfections.
I picked up one of Japco's fiberglass racing hoods. The thing must way all of 4 to 5 pounds. I made some front brackets for hood pins, drilled out for four hood pins and fitted them to the hood. It looks pretty good.
Next I worked on the trunk area. The battery had already been relocated to the trunk by a PO. I pulled the brackets and mounting hardware out. The rear panel had been crushed in an accident and the seam between the rear panel and the floor had a gaping hole in it. I banged things back to where they were close to the original location. I used clamps to pull the gap back together and spot welded the two panels. Next I used some seam sealer on all of the seams. The trunk was ready for POR and then paint as I had done to the tub interior. I cleaned up the battery box and PORed it as well. Got new hardware and reinstalled everything.
My next big battle would be the roll bar/cage. I called one of the local race suppliers and told them what I was doing. They said they could get me a race roll bar from AutoPower. I ordered it and when it arrived I installed it. I then called them back to order some more tubing for the front part of the cage. The same guy I had ordered the race roll bar says "Well, I hate to tell you this but that roll bar is not SCCA legal." I was pissed as I had told this moron exactly what I was doing and he had sold me something completely useless. After some discussion and him claiming there was no way I had told him I was planning on some SCCA racing he refunded my money and told me to keep the roll bar. I was happy to get my money back and will never do business with them again-ever!!!! He also said that I could not build a true race car for under $45,000 and a custom roll cage was going to cost me a minimum of $2000.00. I am not a self propelled racing adventure but an operation with a limited budget or more truthfully--no budget. That is what the SCCA is truly about-the guy with limited funds and a desire to race. I know, there are some big buck teams racing SCCA but my goal is to get out there in a classic datsun roadster and drive the wheels off of it. I intend to drive safely and have fun.
So now what? I looked in the phone book for a local tubing supplier. I had decided to get my own tubing, a tubing notcher, and fabricate my own roll cage. I started reading the roll cage requirements for production open wheel racers. There are basically two styles-high front hoop and low front hoop. I decided on a low front hoop. I ordered 60 lineal feet of .095 1-1/2" tubing and 16 pieces of 12 GA metal 6"x6" for mounting brackets. I started taking measurements and made a template for the front and rear hoops. Here is my parts list for the roll cage:

Roll cage specs for G production roadster
8 point mounting-two front-two rear x 2
DOM mild steel tubing 1.5" diameter with .095" wall throughout
mounting/backing plates .095 thick 6x6" (eight sets)
mounting hardware grade #5 -- 5/16" diameter-minimum 3 per mounting plate
the minimum radius of bends is 3 times the the tube diameter measured from the tube centerline
**So for 1-1/2" tubing the minimum radius would be 4-1/2" from the centerline of the tubing.
(1) main hoop 123-3/8""
(1) front hoop 97-3/8"
(2) rear supports 60"
(1) diagonal brace main hoop 60"
(1) seat brace 48"
(4) side braces 36"
(2) main hoop to front hoop braces 40"
(2) front hoop to firewall 21"


I knew a guy who races and owns a muffler shop close by so I called him to see if he could bend my hoops for me. He said sure bring them on over. He tried several times and was quite unsuccessful at bending my hoops. The first time it actually snapped the tubing. I called the supplier thinking there was something wrong with the tubing. They were quite helpful and ordered me up another batch thinking the heat lot was bad. My muffler buddy tried again and it crushed the walls of the tubing but did not snap it. He said I should try a race shop in Petaluma as he just was not going to be able to bend the tubing properly.

I look up this race shop in the phone book and get the address. I take my broken bent pieces with me and pull up to this place. I explain to the guy what it is I am trying to do and he says "No problem, bring your tubing in and I will bend it any way you want." I race home grab the two pieces for the front and rear hoops, my pattern and drop them off at his shop. Three days later I have perfectly bent front and rear hoops. I ask the guy if he would be willing to weld it up for me once I got everything layed out. He says "No problem, bring it on in." Finally, I hooked up with someone who can really help me out.

Now I am busy cutting and notching pieces to form the roll cage. I used 3M blue painters tape to hold everything together as I fabricated the parts. Once I was happy with the fit I drilled out and mounted the mounting plates to the floor pan. So far I have around $600 dollars invested in my roll cage not $2000 but $600. After a couple of days of cutting, notching and grinding I have a pretty decent looking roll cage that should easily meet the SCCA requirements. I used my 115 volt wire feed welder to tack everything in place. NOTE: Do not do this if you are having someone else weld your cage up for you. It caused more problems than it was worth. When the guy at the race shop started tig-welding he would be going along fine until he hit one of my birdshit looking tack welds and all hell would break loose. It was the flux that had come from my wire fed welder. It took him a bit to figure out what the heck was going on. He had to stop before he hit my tacks and grind them out. Had I known that beforehand I would never had tacked it together. Live and learn. The finished roll cage looks pretty sweet and is highly functional.

I had a friend of mine have a friend of his cut me an aluminum plate to put over the dash. I bolted it in place. Then I installed Autometer oil pressure and water temprature gauges and warning lights. I also put a toggle and push button start switch in. An 8,000 rpm Autometer tach was mounted right below the dash. I put a single wire GM alternator in for added juice and reliability so I installed a cheap volt meter right below the steering column so I can monitor the alternators output. A kill switch was wired and mounted on the drivers side fender where the anttena used to go.

For the fuel cell I ordered an 8 gallon Fuel Safe with mounting brackets. I installed it in the same position as the stock gas tank. It lined up pretty well but I did have to cut out the trunk floor so I can access the filler cap.

There is also a requirement for an onboard fire supression system. I ordered a Fire Safe 5 pound Halon 1211 with a safety pull release from Summit Racing. It came with all the hardware and was pretty easy to install. Hopefully I will never have to use it.

I made a cardboard template of the windscreen to make sure it would fit. I got a hold of some 3/16" Lexan an cut out the windscreen using a sabre saw. After several trial fits I got it where I wanted it. I cleaned up the edges with a file and some 400 grit sandpaper. I used metal screws with rubber washers to mount it to the lip where the stock windsheild goes.

There is a lot of required driver safety apparel as well. I ended up with a Bell Sportsman II helment 2000 SA. You need fire proof underwear, top, bottom, socks and baclava(goes on your head). Drivers suit, shoes and gloves. For open wheeled cars such as the roadster arm restraints are required as well. I also acquired a neck support-recommended but not required.

My son-in-law gave me a Corbeau racing seat that fits in nicely. A 5 point RCI racing harness was installed. I also installed a 13" Cart steering wheel with a splined quick release hub adapter purchased from LongAcre.

I picked up some 14x6 rims from Mike Young(thanks much!) and I have some 195R60's Azenis Falken tires that I will use for drivers shcool in the middle of March. They have pretty good reviews for being sticky tires.


To complete the package the guy who bent my hoops and welded up my cage sold me a trailer for $500.00 so I do not have to flat tow my rig to the tracks. The trailer needs a little work but I do not mind at all.

I took a few pictures of me and my little buddy. You can view the pictures by clicking here. Tell me he is not happy sitting in that roadster. Check out that big smile.

Here are a few more pictures of the project. Click here to view them. It is starting to look like a race car.

My only worry now is to pass the first Tech Inspection and make it through driver's school. Then I can start mixing it up with some MG's , Sprite's and an X19 Fiat or two.

Well, the good news is I had my car teched today(2/4/01) and except for a couple of minor things to fix she is ready to race. The tech inspector really liked the roll cage design. I am getting excited about going to Thunderhill for drivers school. It won't be long.




Here are some links to the suppliers and shops I have used to build my car up and purchase the necessary saftey gear. See you at the track!!




Summit Racing
Pegasus Auto Racing Supplies
Racer Parts Wholesale
Joe Carr Racing-Petaluma, CA
Van Sant Enterprises, Inc.
Network Tool Warehouse
Helment City-Oakland
Long Acre Racing Online
Vulcan Tire Online







Copyright (c) 2001-2016 www.311s.org
All Rights Reserved.
Reproduction of material presented here is strictly prohibited without written permission.